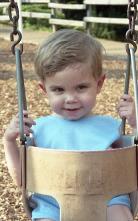 Justin Todd Norris
 September 13, 1998 – December 8, 2009
Justin, our second wonderful son, was born on September 13th, 1998.
He was everything that we had wished for and more. He was a very happy
and extremely bright baby. He was very healthy and never displayed any
indications that there was something going on in his little head that would
soon change our lives forever.
He displayed flu like symptoms in the summer of 2000. Like any parents,
we were concerned but not overly concerned. When his symptoms did
not improve after a few days, we took him to the local emergency room.
They administered several tests and concluded that he had the flu.
Another week passed and his condition worsened. We returned to the
hospital. This time, Justin was admitted and was given IV fluids to treat
his "flu". We were discharged the next day.
A few more days passed before we decided to take him to Wolfson's
Children's Hospital in Jacksonville, FL. Being Active Duty Military, I have
been trained that only extreme emergencies should be treated in out of
town emergency rooms but I had to know what was wrong with my son.
We were not in Wolfson's for more than one hour when the doctor told
us what was wrong with Justin. He told us that his flu like symptoms
were caused by extreme pressure in his head that was a result of a brain
tumor located behind his brain stem. He was immediately prepped and
admitted for surgery. His surgery was successful. At least we thought.
As with any tumor, some of the tissue is sent to John Hopkins University
to determine whether the tumor is cancer and to determine the type of
the tumor. Our surgeon thought that it was an Astrocytoma (a fairly
"harmless" tumor). We were relieved that Justin did not have cancer and
also believed that we were through the worst part of this problem.
The results from John Hopkins University arrived roughly two weeks
later and we were called in to the doctor's office in Jacksonville. We could
tell by his demeanor that he did not have good news for us. He told us
that Justin's tumor was a rare tumor called an Ependymoma. Although
the Ependymoma is not a cancer, it is extremely difficult to cure. The only
way to cure this type of tumor is with complete removal with surgery or
high doses of radiation.
We learned quickly over the next few months that this tumor was more
threatening than any of us had imagined. Justin had surgery to remove
this tumor a total of four times within an eight-month period. Every time
we had surgery, Justin had to start over. We had to teach him how to
swallow, use his arms, legs, hands, etc. It was an emotional roller
coaster. After the third surgery, the doctors in Jacksonville basically told
us that this tumor was going to take Justin's life.
Well, there was no way we were giving in. Tina found St. Jude Children's
Research Hospital in Memphis, TN on the internet. She was sure that they
would help. I emailed the Ependymoma specialist, Dr. Tom Merchant and
hoped that he would get back to us. I was extremely surprised when he
called that very night.
Dr. Merchant explained that we did not have too much time and we needed
to get to Memphis as soon as possible. Enough said. I explained my
situation to my Chain of Command and was granted Temporary Orders to
Millington, TN. Justin received his last surgery in Memphis and started his
radiation treatments. Dr. Merchant explained to us that radiation would be
dangerous for a few reasons. The first being that the location of Justin's
tumor would cause the radiation treatment to be administered through his
fragile brain stem. The second is that Justin was only two years old and
that any radiation would be harmful since his brain had not fully developed
yet.
The radiation was extremely successful and the tumor was gone. We
left Memphis in June 2001 with our cured baby. We were not fully aware
of the effects of radiation or what to expect a few months following the
treatment.
In October 2001, Justin contracted RSV (Respiratory Syncytial Virus).
We assumed that he "caught it" during his many regular check-ups at
the hospital. Justin displayed that he was having a little trouble
breathing and we promptly started packing our things for a stay at the
hospital. Before we were able to move our things to the car, Justin
stopped breathing.
We were transported via Life Flight helicopter to Wolfson's in
Jacksonville, FL. It was determined that the RSV was not the only thing
that was going on with Justin. A MRI revealed that Justin's brain stem
was swollen and there was a lot of pressure in his head. The surgeries
that Justin had to remove his tumors caused damage to his "plumbing"
for his spinal fluid and a tubing system (shunt) was surgically implanted
to route the fluid. The excess pressure in his head indicated that his
shunt was not working. A replacement shunt was installed and heavy
doses of steroids were administered to ease the swelling of his brain
stem. Justin's brain stem did not respond to the steroids and he was
still having trouble breathing on his own.
We were eventually discharged with a machine that would help Justin
breathe but the machine was dependent on Justin initiating the breathing.
After many long nights of worrying about Justin's breathing, we were
back in the hospital. On December 26th, 2001 Justin went into surgery
for his tracheotomy. We received our own ventilator and were discharged
a few weeks later.
It was heart breaking to see Justin "trapped in his own body". He was so
full of life and was almost unable to express it. We never did give up
hope or faith. God gave Justin to us because he knew that we would love
him and do everything that we could for him.
Justin lost his battle with his illnesses on December 8, 2009. We take a
little comfort in knowing that Justin is no longer suffering and is playing
baseball in heaven.
WE LOVE AND MISS YOU JUSTIN!!