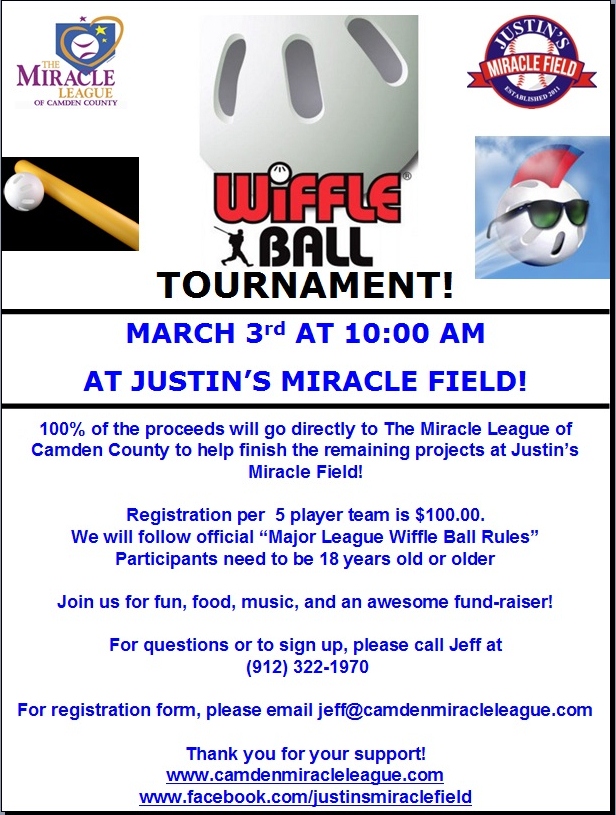 Here's your chance to re-live your childhood and play the game that we all grew up loving one more time!
We will actually play on Justin's Miracle Field!
100% of the proceeds will go directly to The Miracle League of Camden County to help finish the remaining projects at Justin's Miracle Field! Justin's Miracle Field provides the opportunity for children with disabilities, even those that use wheelchairs or walkers for mobility can play baseball.
Registration per 5 player team is $100.00.
Official "Major League Wiffle Ball" Rules will be followed. Only official Wiffle Balls and Bats will be used. All equipment will be provided!
We will also be offering concessions, music, announcement and scoring of each game!
Trophies will be awarded to the top 3 finishing teams.
Must be 18 years old or older to participate.
For questions, please call Jeff at (912) 322-1970.
For registration form and a copy of the rules, please email jeff@camdenmiracleleague.com.
Based on the response and the amount of teams that we get signed up, we will offer practice times prior to the event.
Volunteers are needed also! We need officials, help with concessions, etc! Please email if you are interested in helping!
Thank you and please invite your friends !!